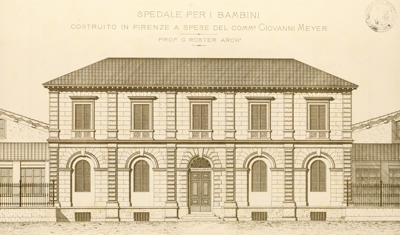 One of Europe's first ever hospitals specializing in the treatment of children was opened in Florence in 1884. Commendatore Giovanni Meyer built the children's hospital, which he dedicated to his late wife Anna Meyer (following her premature death) and then donated to the people of the city.
Meyer hospital, affectionately known by locals as "ospedalino", or "the little hospital", went on to become the birthplace of modern pediatrics. Until it opened, young patients received the same treatment as adults - a fact which had greatly affected Anna Meyer when she witnessed it herself first-hand. As a result, her husband built a grand hospital for children, very much ahead if its time and designed around the most advanced European healthcare ideas. It was built exclusively for the care and treatment of children and adolescents, and went on to become a training ground for some of the fathers of modern pediatrics. Examples include Professor Giuseppe Mya and his crucial study of tuberculosis, and Dr. Carlo Colomba, famous for his research into infantile neurology and for his part in spreading the diphtheria vaccine – which halved the mortality rate among children admitted to hospital. There is also Professor Cesare Cocchi who, immediately after WW1, made vast steps forward in the fight against tuberculous meningitis, gaining international recognition for himself and Meyer.
In 1995, Meyer's specialized status gained official recognition and then, on December 14, 2007, the hospital completed its re-modernization and relocation to Villa Ognissanti in the Florentine hills. Ospedale Meyer is not only an advanced treatment center, but it was also built using warm, natural materials to ensure a minimal impact on the surrounding centuries-old parkland.
Within its walls, Meyer is fast establishing itself as one of the most dynamic centers for pediatric care in Europe. Today, Meyer is one of the leading children's hospitals in Italy and around the world thanks to the treatments, research and level of care on offer. More than a century has passed since it opened its doors and Meyer is still committed to honouring and maintaining the same generous and selfless spirit with which it was first built in 1884.
---